Thursday 18th August 2022
ITP's graduate training scheme, SUNRISE, offers new graduates and those with a few years' experience a variety of tools and opportunities to kick-start their careers. In the first two years of the scheme, you get to do work placements across three different transport planning disciplines. When I joined in May 2021, I jumped straight into the Public Transport team and was involved with several Bus Service Improvement Plans which sought to deliver better public transport networks in a post-pandemic world. After 8 months, I moved to the International team, where I've been working on an institutional review in Delhi, India, and a connectivity study in Tbilisi, Georgia. It has been a great experience to work with different people from across the business, alongside the different nature of UK and international projects.


SUNRISE has provided a clear structure for my professional development. Organised training sessions and monthly meetings mean we come together regularly to share experiences and ask questions.
Quarterly one-to-one reviews with the SUNRISE scheme coordinator mean I have the opportunity discuss my personal progress in an open and friendly environment. I've found these reviews to be particularly useful alongside separate discussions with my mentor, to set myself targets which I am encouraged to pursue and keep at the forefront of my mind.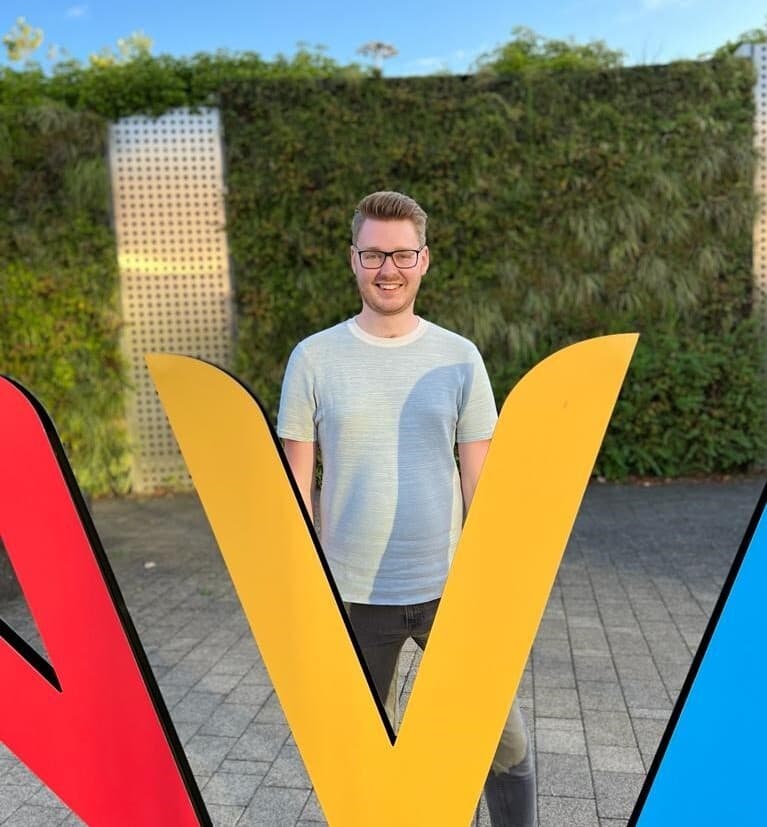 A couple of months ago I set myself a target of leading a lunchtime webinar so I could practise my presentation skills in front of a friendly audience. I decided to present on Pride Month in June and the importance of equality, diversity & inclusion in the workplace. This topic is important to me and reflects how comfortable I have been made to feel within the company. In July I followed this up by writing a short post on LinkedIn to share what Pride Month represents to me.
Through SUNRISE, I regularly attend training sessions and recently this included a session on how to use GIS for project work. This was a brilliant opportunity to be trained in-person and ensured all SUNRISE members understood the fundamentals of the software. For me, as one of the more experienced members in the group, this gave me more confidence in actively contributing to projects, whilst for others it provided the opportunity to build confidence in their ability to use the software.

As ITP is part of the Royal HaskoningDHV family, I've also been given the opportunity to join their graduate scheme, LAUNCH.
So far, this has focused on developing soft skills for the workplace, but upcoming sessions are more skill based including report writing, developing client relationships and project management fundamentals.
This scheme sits nicely alongside SUNRISE and has given me a great introduction to Royal HaskoningDHV, with plenty of opportunities to meet our colleagues throughout the UK.
Both ITP and Royal HaskoningDHV have strong workplace cultures and regularly collaborate to deliver employee-focused initiatives. This plays an important role in my day-to-day work. For example, my colleague Abigail Pearson and I recently volunteered to organise a World Clean-up Day 2022 event for ITP, Royal HaskoningDHV and Lanner in the West Midlands. These initiatives provides us with a fantastic vehicle (do excuse my transport pun there) to deliver meaningful change in our local community.
Last month I also joined Royal HaskoningDHV's YOUNG Committee in the UK, which organises events, workshops, and networking opportunities for colleagues across the UK. Building on the strong links between ITP and Royal HaskoningDHV, I look forward to assisting the other committee members in organising events with colleagues from across the business.
I've almost been at ITP for a year and a half now, and it has been a very busy time, but when I look back it is easy to see how far I have come. I've had some great opportunities through SUNRISE, including active encouragement from colleagues to push for change and work towards things that are important to me; and to investigate my interests within transport planning. I genuinely believe any of my colleagues could have written this blog completely differently, reflecting on the different avenues and opportunities we have each pursued – and that is a great thing! It's been a fantastic start to my career and I truly feel like one of the ITP and Royal HaskoningDHV family.
We're always looking for bright and ambitious people to join our team. If you like the sound of being part of the ITP team, please check out our current vacancies, or get in touch with Jim Bradley for an informal discussion.