Thursday 26th September 2019
Knowing several people who suffer with their mental health, and knowing how travelling by public transport can help, I wanted to explore what we as transport planners can do to assist.
Mental illness is the largest single cause of disability in the UK. The economic and social costs in England are around £105 billion a year (Department for Health). It is well documented that public transport helps with mental health in a number of ways:
Reduces isolation and loneliness.
Enables people to connect.
Provides access to essential services particularly for those without access to private transport.
Increases physical activity which in turn benefits mental health.
Reduces pollution which has shown to have a detrimental effect on mental health.
Reduces the stress incurred through private travel.
However, using public transport can be difficult for people with mental health conditions, which was highlighted in the report published recently by The Centre for Transport Studies at University College London. This report identified that around 25% of the population has been diagnosed with at least one mental illness; this can make travel difficult by affecting the ability to interpret information, to navigate, to concentrate, and to have the confidence to take decisions and interact with other people. The cost of travel can also be an issue as many people with mental impairments have low incomes because they are unable to access suitable employment.
A survey undertaken by Mental Health Action Group in 2011 explored the relationship between mental health and public transport. It identified that access to public transport is a key determinant in a person's chances of achieving maximum recovery and being part of their community; 83% of respondents said it was 'very important' to their mental health.
The results present two spirals: the positive spiral of recovery and reintegration which is enabled by public transport that is easily accessible and affordable; and the negative spiral of enforced isolation leading to a worsening mental health condition and all the disabling restrictions that brings on a person's life.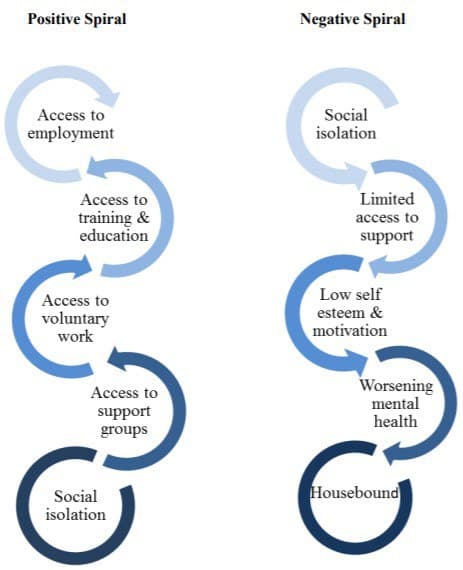 So what can we as transport planners do to help?
Information, information, information
Quite simply, information is key. Anxiety is reduced if people know what to expect and understand what is happening. People respond to information in different ways so it is important to use a range of media, and cut out the transport jargon. We need to think about what the passenger needs to know and consider the best way to provide the information they need. For instance:
Pre-journey – online information; adverts; printed information; travel planning services; apps; information at local centres; guidance
Journey inception – wayfinding; information at stops; real time information; destination information on vehicles; journey tracking; information desks; travel assistants
Journey duration – 'next stop' signs; audio announcements; journey tracking; schemes to encourage interaction between people; assistance from drivers/conductors; on bus/train posters/leaflets
Journey end – wayfinding; information on return journey
Effective marketing and information provision will help to instil confidence. Travel training is another way of helping, as is increasing awareness of mental health.
Whole journey solutions
One barrier to public transport use is the need to travel to/from stops. In addition, undertaking multimodal journeys can be daunting. It is important therefore to consider non-motorised users in any transport planning scheme. This starts at the design stage, ensuring new developments and infrastructure effectively considers public transport, walking and cycling, and links them all together to provide an efficient and safe sustainable route. Providing interchanges and cycle storage at key locations and considering new forms of transport such as driverless systems and e-scooters, is important in designing integrated multi-modal transport systems for the future.
Improve reliability
As beneficial as it is, people will only use public transport if it is reliable, and for those suffering from mental health conditions, this is even more important. As transport planners, our main contribution to this is to overcome congestion (eg enforced bus priority lanes), or segregate public transport completely. Developing achievable timetables and speeding up boarding and alighting through smart or contactless ticketing and multi-door vehicles also assists in enabling the service run to time. Parallel to this is making car travel less attractive through car park management, parking charges, and work place levies. Less cars = less congestion = more reliable public transport.
Remove the need to make decisions
Research explains that anxiety disengages the part of the brain (the pre-frontal cortex) that is essential for good decision making, planning and processing thoughts in a logical, rational way. The pre-frontal cortex also helps to take emotion out of a decision, by calming the part of the brain that runs on instinct, impulse and raw emotion (such as fear). Taking away the need to make decisions makes it easier for those suffering from anxiety. We can achieve this by limiting choice or having systems which automatically choose the best option such as smart ticketing, simple fares, travel planning services and multi-operator tickets.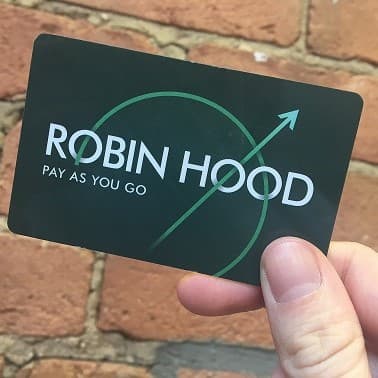 Make it a pleasant experience
Comfortable, clean vehicles and a safe, smooth ride makes travelling more pleasurable. Planning networks which allow for smooth journeys and which have the capacity to carry people comfortably help to make journeys a pleasurable part of the day rather than it being a chore. Having the ability to relax provides crucial 'downtime' that driving a car does not allow.
Enable it to be a time-saving experience
If people are limited for time, they often turn to the car for their travel needs. However, if we enable people to integrate their life with public transport, the need for travel reduces. For instance, having wifi enabled vehicles enables people to shop, work and use social media. Pick up lockers and post boxes at interchange points reduces the need to travel to different destinations.
It is our job as transport planners to make travel by public transport a positive experience which is inclusive to all, and break down the barriers that prevent people from travelling actively and sustainably.
If you would like to find out more about how we could help click here to find out more about services we provide, or get in touch.