Wednesday 24th July 2019
Last month a report was released by the Centre for Transport Studies at UCL which considered the links between mental health and travel. Professor Roger Mackett conducted research on how mental health conditions can act as a barrier for individuals to access transport services across rail and road. The issues within our industry were made apparent - with a lack of training, infrastructure and financial support being particularly emphasized.
The current situation
Over a quarter of adults in England have at least one diagnosed mental health illness, while many are left with no diagnosis, meaning a notable percentage of the population are at a disadvantage within our current transport system. The report focused on almost 400 individuals who all have at least one mental health condition. The respondents were from a variety of locations, including both urban and rural areas, and were asked about their journeys on a variety of modes.
Major concerns from contributors include the need to talk to staff, becoming lost, and finding accessible toilets.
The paper also highlights concerns about affordability for these groups as many cannot access the more inexpensive advance tickets and very few passengers had access to a concessionary bus pass.
The proposals
The report outlines 39 recommendations that address a variety of concerns across all modes of transport. They also cover a range of scales from the need for DfT research to employer level support. Importantly, there is a focus on how local authorities and bus operators can make changes to services to ensure support is available to all customers.
Information and interaction are the two big takeaways from the recommendations. Information needs to be more readily available, through wayfinding, signage about buying advance tickets, and simply better online services. This would improve accessibility for all groups.

Secondly, interaction, which encompasses both staff and fellow passengers.
There is a need for training and awareness for mental health conditions as well as physical disabilities; staff need to be prepared to deal with different situations. The major anxiety for participants was how other passengers would interact with them. The research suggests that quiet coaches need to be better enforced, and a motto of 'Please look up to see if anyone needs your seat more than you do' should be rolled out across networks.
What is already happening?
The good news is that Government and operators are already taking steps to address some of these barriers.
Here at ITP, we recently advised on the reassessment of the Blue Badge Scheme to include those with Hidden Disabilities. Previously, the framework did not consider those who experience psychological distress as a group whom need priority for a space. ITP have created core assessment principles to allow hidden disabilities to be recognized alongside any physical disability.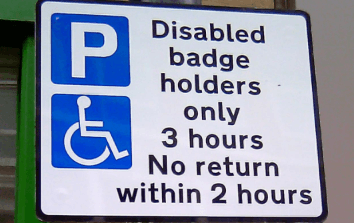 Elsewhere in the industry there has been movement to support those with mental health issues, particularly in rail. Firstly, Virgin Trains now recognizes the 'JAM' card which stands for 'Just a Minute' and identifies those who have communication barriers. Meanwhile, 'The Calm Corner' has been introduced at Crewe railway station. This is a waiting room that has been designed to be calming and informative for those with anxiety or other mental health conditions. This space is a first of its kind across the rail network.
We recognise that there are still barriers for certain groups to access transport, and we are committed to ensuring inclusive mobility for all. If you are interested in reassessing your transport strategy to ensure it is more inclusive, please contact Neil Taylor at taylor@itpworld.net or visit our website to see how ITP could help.