Wednesday 25th September 2019
PITX(Parañaque Integrated Terminal Exchange) is a large multimodal transport terminal in the south west of the Philippines' capital, Manila. Serving buses, jeepneys and AUVs (limited stop services in minibus-style vehicles), PITX is the primary transfer point for commuters coming into the city from the southwestern provinces of Cavite and Batangas. The terminal was built in 2018 by Megawide Construction Corporation in a public-private partnership with the Philippine government but, once opened, it was not serving routes in the way that was anticipated. ITP were appointed by Megawide to conduct a study on travel patterns to and from the terminal, and to better integrate the terminal into Manila's public transport system.

What did we do?
Building on some of our previous work in the Philippines, such as the ManilaRoad Transit Rationalisation Study, we constructed a GTFS feed to enable trip analysis and accessibility modelling. This feed must be fed by high quality, up-to-date data so we partnered with our long-time collaborators, the University of the Philippines' National Center for Transportation Studies, to assist with our data collection: including a public transport frequency and occupancy survey, traveller interview surveys to understand existing trip patterns and passenger preferences, and one-on-one sessions with operators to capture their thoughts and concerns. Using this data we were able to map the accessibility of destinations from PITX using public transport in 20 minute time bands using our GTFS feed and visualisation tools (see image right).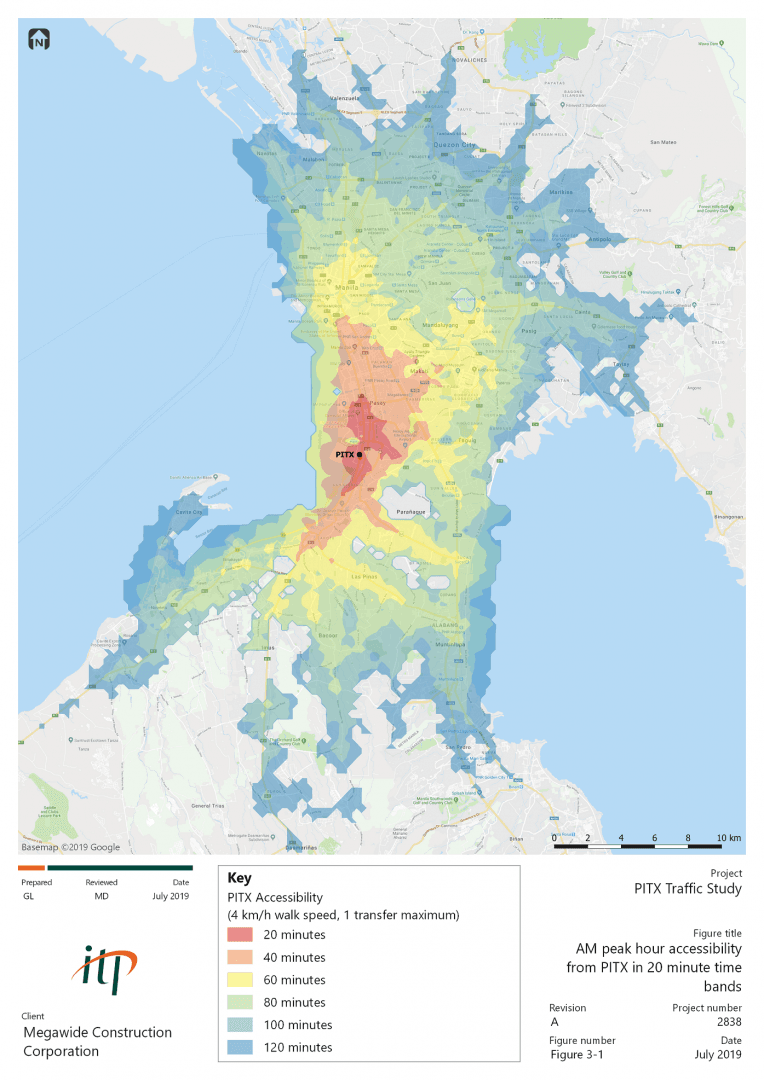 Understanding latent demand
One of the key outputs of our study was a projection of PITX's passenger base over the next two decades, which can be challenging when there is as much development planned as there is in Manila. Patronage changes can come from natural population growth and changes in land use (particularly in the province of Cavite), new transport infrastructure (like the LRT 1 metro extension, which could both drive new trips through PITX and steal away others) and, very significantly, land reclamation projects in Manila Bay, which will bring a lot of new jobs and homes.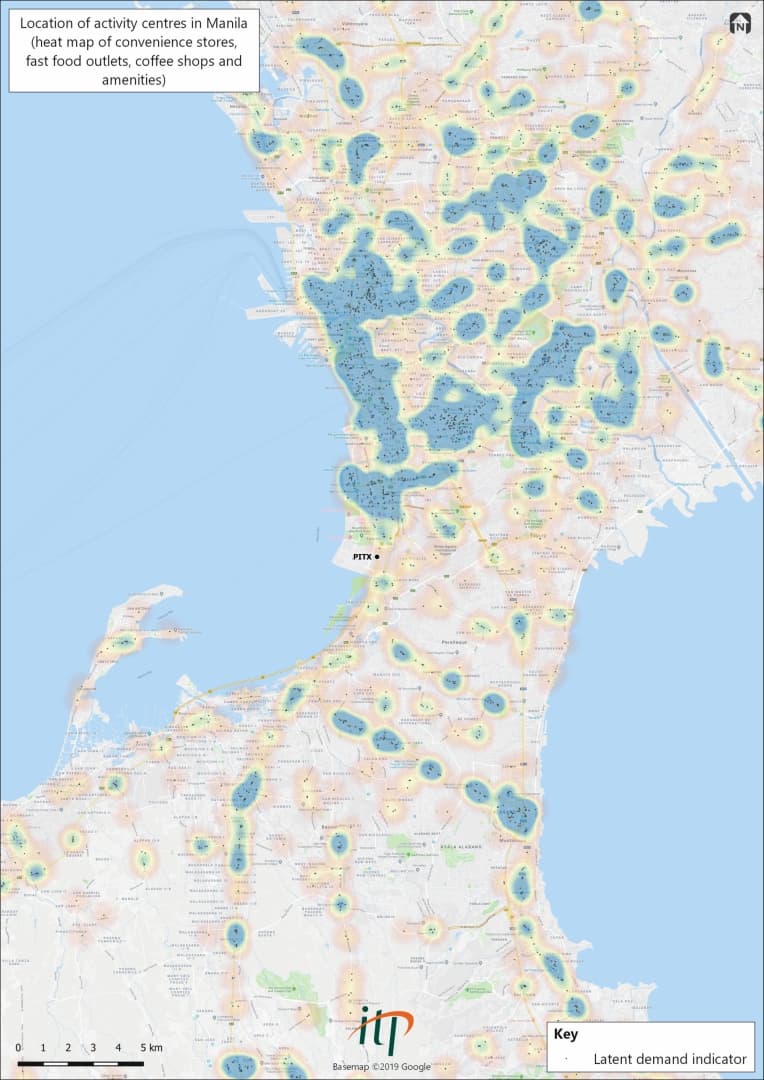 One sometimes overlooked driver of ridership is the fulfilling of latent demand: trips that people would make if only there was a route that served them. While it may not be possible to measure this directly, we used the locations of popular chains such as Jollibee, McDonald's, and Starbucks to identify areas of high activity that were not well served by the current transport network (see map to the left). Bringing all of this together, and applying our local knowledge developed over the years, we identified a number of route modifications and proposed several new services that would improve the journeys of existing travellers and enhance connectivity in underserved areas of the city.
Projects such as this form part of ITP's wide portfolio of international work, if you would like to find out more, please get in touch. If you would like to join our international projects team, click here for more info.