Monday 17th April 2023
When it comes to urban transport in emerging cities, Latin America has played an important role in showcasing what's possible. Be it Curitiba's BRT, Bogotá's bike lanes (and even bigger BRT), Medellin's cable cars or Santiago de Chile's e-bus fleet, the region has provided some great examples of '¡sí se puede!' (yes we can!) for transport planners and urbanists alike.

But if the big things that have become global best practice are the 'science' of moving people, my recent trips to Mexico, Peru, Colombia and Brazil really brought home so many softer, thoughtful initiatives to tackle more nuanced problems or simply make the city a happier place. Let's call it the 'art' of urban transport.

Here are some of my favourites:
An iconic map with a social purpose
Mexico City's metro and Metrobús networks are a sea of icons, with each station represented by a symbol depicting the name of either purely functional (e.g. for a hospital) or the Aztec meaning of each place. From a human perspective they create thoughtful additional layer to the identity of a city of everyone – but the real original purpose? To help people with limited literacy to navigate their way around the system – something sadly still all too necessary in many parts of the world.
Mexico – like many parts of the region (and indeed the world) – has a serious gender violence problem. While tackling the problem is a multi-faceted task and sadly not a quick win, in the interim Mexico City has pioneered the use of dedicated sections for women and children on the Metro. With pink paint and a separate platform section, these women's areas are pretty hard to miss and largely self enforcing. While hotly debated as a long-term solution, they're nevertheless an immediate intervention to tackle a very real problem.

Beautiful Rapid Transit
If Bogotá's TransMilenio is the regional master of BRT at scale, perhaps Mexico City is the master of making BRT beautiful for historic settings. Here on Avenida de los Insurgentes (below left), space and heritage constraints mean the solution is for high capacity, biarticulated buses to operate along a single route and stopping pattern – permitting a high capacity despite smaller stations and no overtaking lanes. Meanwhile on Paseo de la Reforma (below right), red double deckers and off-bus boarding complement intelligent route segregation provide an iconic look for an iconic street.
With both complemented by cycle lanes and lush urban greenery (and even a violin player, on one setting), if anyone tells you that BRT is not compatible with placemaking send them to CDMX!
Everything's connected: buses for digital inclusion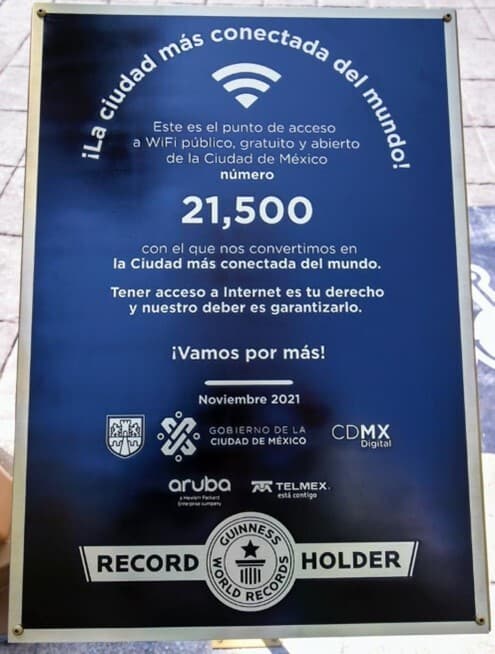 Finally, a reminder that things like free and easy public Wi-Fi is a 'nice to have' for many, in emerging cities where data plans have far from universal coverage, here they can be genuinely transformative for the journey experiences and digital inclusion of some of our most marginalised citizens.
Mexico City now has 21,500 free public Wi-Fi points cross the city, mostly in transport hubs and on the street, making it the most connected city in the world.
Reclaiming the streets – without overthinking (or overspending).
It seems that Bogotá hasn't paused for breath in reclaiming the streets in recent years with the pandemic providing the opportunity space for serious experimentation that seems here to stay.

Experimental low traffic neighbourhoods (with urban regeneration and natural policing) in San Felipe, a cycle lane down the Carrera Séptima (!) and kerb extensions and junction improvements all over. In conclusion, some splashes of paint, some well-placed planters and small-but-sturdy lane segregators and you can have safer streets, bustling cycle lanes and an urban realm that attracts activity and regeneration.
A history lesson on every corner
Creating civic pride and a sense of belonging is an important task – especially in rapidly growing cities built on migration. Here in Porto Alegre, Brazil, every street name sign includes a simple one-line explanation of the background – providing a miniature history lesson on every corner.

By providing historical context and significance, street name signs in Porto Alegre not only foster civic pride and a sense of belonging, but also imbue the streets themselves with meaning and purpose beyond mere geographical markers.
This approach adds depth and richness to the urban environment, serving as a reminder of the city's heritage and contributing to a greater appreciation and understanding of its past.
From Latin America to the world?
These, and many others, stuck in my mind as examples showing localised solutions and innovations to specific citizen needs and priorities.
Many of them will be very useful in other parts of the world. After all, there are no shortage of cities looking for ways to reclaim their streets, generate civic pride, or find a way to integrate mass transit into a sensitive part of town (particularly if it is low cost and potentially a quick win!).
At the same time, these schemes serve as an important validation of ITP's collaborative approach to working in the world, which involves working closely with stakeholders to understand their needs, learn from what's there, and develop solutions that are tailored to the unique context of each city.

To find out more, please contact our Latin America Lead, Stuart Clapham (stuart.clapham@itpworld.net) or get in touch via our website. Our portfolio of services for Latin America can be downloaded here.