Thursday 24th August 2023
Back in 2020 I first began working with Transport for West Midlands (TfWM), assisting with their Emergency Active Travel Fund (EATF) supporting measures projects. The Department for Transport (DfT) made funding available to Local Authorities to support people's safe movement, health and wellbeing. The emergency grant funding known as EATF supported local transport authorities with producing cycling and walking facilities.
Fast forward three years and I have now worked with them as their Travel Demand Manager during the Commonwealth Games to manage their Business-As-Usual (BAU) team and activity, on the Games itself managing the day-to-day operations of the Travel Demand Management (TDM) and Communications team and most recently this year, as the Head of the Behaviour Change Hub; a brand new team.
This has been a brilliant opportunity – not without its challenges! But with a great team, I have been able to develop and reinvigorate a renewed focus on network mitigations, TDM and behaviour change as part of the Network Resilience directorate at TfWM.
The transport network in the West Midlands comprises the following modes (and associated infrastructure);
Active travel
Bus
Train
Tram and;
Highways
Collectively, this provides a transport system that enables the region's economic, social, health, leisure and education activities to function. A resilient transport network is essential to a thriving region. Becoming a more resilient region means the West Midlands needs to be prepared to deal with planned and unplanned activities that can cause disruption, using our understanding of our communities, the places we live, the ways we travel and the disruptions themselves to equip our customers to make the best choices.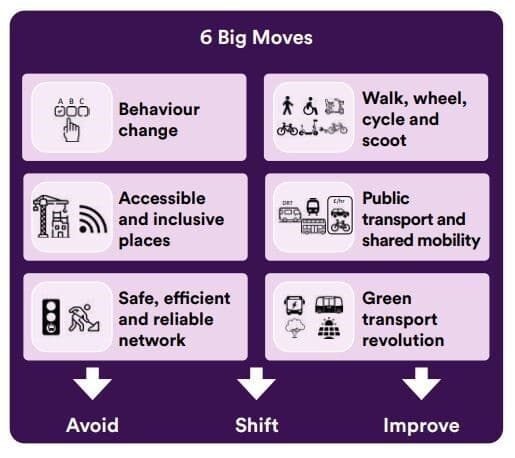 We need to enable our communities to create positive sustainable travel habits, so that even in times of disruption they are well informed and able to undertake the journeys they need. An essential role of the Behaviour Change Hub is creating a resilient network. Behaviour Change is one of the West Midlands Local Transport Plan's 6 Big Moves and the Hub supports this policy by ensuring communications and engagement with communities follows these principles, whilst also incorporating our evidence led TDM strategies.
The Behaviour Change Hub is made up of three teams and the Mission Statement of the Behaviour Change Hub is;
"Enabling people to enjoy travelling reliably across the West Midlands in the most sustainable way possible, considering both their environmental impact and the increasing effects of climate change. We will do this by understanding and evaluating the impact of all disruptions and gathering an evidence-based knowledge of our communities and stakeholders to assist us in understanding appropriate mitigations. We engage with our communities (businesses, education sites, local residents, freight/taxis companies) by providing travel advice to manage disruption and support individuals with their journeys and encourage sustainable travel."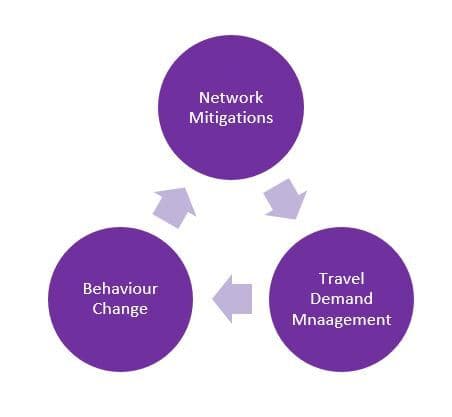 My role as Head of the Behaviour Change Hub has been focused on setting up this new work area; recruiting individuals to key new roles and establishing effective and efficient processes and ways of working together (alongside colleagues across the Network Resilience directorate and in teams across TfWM). Alongside this, I have continued to oversee the many projects the teams are already busy delivering and reacting to the unplanned activities that over the last year have very much become the norm; industrial action, severe weather impacts and infrastructure challenges to name a few!
Significant achievements have included:
We have greatly increased our capabilities when responding to unplanned activities. The industrial action in the form of bus, rail and metro strikes provided us with plenty of experience! We worked together to get through the challenge, with our TDM team critical to the planning and provision of the evidence base for action, and our behaviour change team key in informing schools, universities and businesses of the options available and up-to-date information throughout the disruption.
We have completed our first Proactive TDM strategy for the Metro Line 1 that runs from Wolverhampton to Birmingham. This enables us to be more prepared for unplanned scenarios, using the evidence we have gathered and working together with teams across TfWM to constantly improve the customer experience.
Using our Commonwealth Games experience, we now work closely with the Events team to integrate TDM strategies into our mitigations and response. This helps to increase the sustainable travel options available to visitors and minimise disruption for our residents.
We have established the Network Mitigations Forum, which is the result of several years of planning. Led by the expertise of our Network Mitigations team, we bring together key colleagues from across TfWM to evaluate the impact, interface and disruption of major schemes (such as new infrastructure) across the region and develop a coordinated approach with partners to mitigate this according to the impact.
Working closely with our Data insight team and ESRI UK, I have developed a new TDM and Behaviour Change data portal which allows the Hub team to analyse transport routes, personas and segmentation data, understand the types of individuals, organisations and education establishments and apply capacity information to quickly assess the impact and potential options in a disruption to begin to create the evidence base.
The Influencing Transport Lab (ITL) launched at the same time as the Behaviour Change Hub and developing our relationship and ways of working is crucial for the future of our behaviour change projects. Supporting and challenging each other with pilot project ideas, and discussions on how to better integrate the need for behaviour change in all TfWM projects have been just some of the many conversations in this exciting development area.
Working closely with our Network Resilience management team, I have supported the development and completion of our new Network Resilience delivery plan for the next investment period until 2026. Focusing our work on resilience theory, developing mission statements and objectives that will enable constant monitoring and evaluation of projects and make the changes required to enable us to provide a better service for our communities.
These first six months of the new Behaviour Change Hub are just the start and I have worked hard to evolve the team and the work of the team so they can continue the journey - I am looking forward to observing and supporting them as this continues!

For more information, or to discuss a similar project or how we can support you, please get in touch.