Tuesday 30th May 2023
Every year RHDHV's International Cross-Selling Day is hosted at the head office in Amersfoort. It provides an opportunity for different sectors within RHDHV to collaborate across traditional discipline silos; early-career engineers, consultants, and project managers mingle from fields such as maritime, environment, digital and transport. Amongst sessions on AI, biodiversity and leadership, James Reeves and I presented on the topic of Sustainable Mobility.
As my colleague David explored in his recent blog, Reject doom-ism, there are arguably currently two prevailing attitudes within the transport sector:
Despondency: The problem is so big, where/how do we even begin?
Techno-optimism: the heralding of technological innovation, particularly regarding electric vehicles, as the answer to our problems.
Our workshop focused on the latter and posed the question: Are electric vehicles the silver bullet to solving the climate crisis?
The reality of the situation
Net zero requires decarbonisation across all sectors, but arguably transport planners have the toughest (and most important!) task in achieving this goal. This is particularly evident when we observe the graph to the right, which clearly indicates that the transport sector is the only area where emissions have remained stubbornly high.
Within Europe, notable progress has been made in improving the efficiency of vehicles. yet this has been undermined by increasing motorisation and trends towards purchasing larger vehicles which has hindered the overall reduction in transport emissions.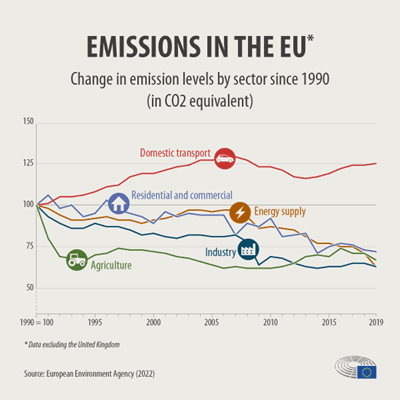 Electric vehicles are undoubtedly essential for the decarbonisation of the transport sector. ITP have supported clients across the globe to improve e-mobility, particularly addressing the electrification of the bus fleet. We cannot decarbonise our transport network without zero-emission vehicles, but the use of electrification alone will not be sufficient.
… but do EVs provide the answer, as promoted by techno-optimistic supporters?
Electrification does not come without its own constraints. A few important ones are:
Congestion: Replacing a combustion engine car with an electric car does not solve the challenge many cities are facing with severe congestion caused by accelerating motorisation.
Equity and affordability: EVs are currently considerably more expensive than their ICE counterparts. Relying upon them for the short-term, urgent action that is required will increase transport costs for many without appropriate government subsidisation. This makes transport and all the benefits it provides more expensive and potentially out of the reach of the poorest and most vulnerable in society.
Upstream use of finite resources: While electric vehicles may have near zero tailpipe emissions, the electricity needs to be generated cleanly (i.e., not with dirty coal) to have an effective impact. Likewise, the use of finite resources in batteries and the production of vehicles should not be overlooked.
Road maintenance: EVs weigh a significant amount more than ICE vehicles -one report found that there is up to 40% additional road wear associated with battery electric vehicles compared to ICE vehicles. Where road quality is already poor, this could exacerbate the issues.
As we need to decarbonise our transport sector with accelerating urgency, all interventions will be required to create successful change. The Avoid-Shift-Improve structure, first developed in Germany in 1990s, provides a central concept in ITP's decarbonisation projects. We understand that electrification forms one part of a much larger puzzle. Best practice demonstrates a combination of policies, led by Avoid and Shift measures, provide the best decarbonisation results. Avoid + Shift policies and strategies can be as, if not more, effective at decarbonising the transport system and include:
From the outset, development designed for walking, wheeling, and cycling, with good public transport connectivity across multiple modes. Mixed use, dense neighbourhoods with amenities such as shops within walking distance facilitate zero-carbon travel choices.
Enhancing public transport provision to create a desirable and reliable network to enable mode shift.
Consider different approaches to freight: both long distance mode shift, and last-mile consolidation.
So, are electric vehicles the silver bullet to solving the climate crisis?
Transport remains one of the most stubborn sectors to decarbonise. Technology will undoubtedly form part of the solution, but in answer to the question: EVs alone will not be the answer to decarbonising at the vast and rapid rate that is required, while also fixing the wider issues with our transport networks. The solution will instead need to involve a much broader mix of measures. Measures which reduce trips and create mode shift are necessary and deserve more attention. Creating denser, people-focused neighbourhoods, alongside a desirable public transport network, not only support crucial net-zero objectives but underpin a more equitable society.
Our presentation at International Cross-Selling Day provided new and interesting insights about decarbonising transport from cross-sector disciplines. Discussing ideas afresh with new perspectives beyond our sector was a reminder that to create change, collaboration is central.
If you would like to know more about how ITP can help support vision led Local Transport Plans and decarbonisation strategies then please get in touch.