Friday 25th June 2021
Since the Wright Brothers completed the first flight in a powered aircraft back in 1903, the aviation industry has grown considerably each decade, making the world a much smaller place. In the 1920s commercial airlines such as Pan American and KLM sprung up and by the late 20s passengers were being served drinks in the cabin.
The glamour and the thrill of air travel was originally only accessible to the elite but as the decades rolled on, air travel for the masses was within reach. By the 1950s commercial air travel boomed with the introduction of the world's first jet airliner and for the first time, more US citizens were travelling by air than train. In the 1980s, the budget airline started to take hold with Ryanair launching in 1985 and in 1995 easyJet launched. These new brands offering no frills, cheap and cheerful air travel truly opened up international travel to the masses, as a result global air passenger numbers continued to rise year on year.
Trains back on track?
What do you get if you mix an environmentally aware population with a global pandemic? A drastic reduction in air travel. Prior to the global coronavirus pandemic, evidence already existed showing people were starting to consider the way they travel more thoroughly, including looking at options to reduce their air travel.
Famously, Greta Thunberg also refused to fly to the UN Climate Action Summit in New York in August 2019, instead travelling by boat. She also then travelled back across the Atlantic later in the year after the planned COP25 in Santiago, Chile was moved to Portugal at short notice.
This increased concern around the impact of air travel on the environment has continued to grow over the last couple of years. As recently as April 2021, MPs in France voted to suspend internal flights if the same trip could be completed by train within two and a half hours. A quick Google search will also bring up several companies such as Byway who specialise in arranging holidays in the UK and Europe via train.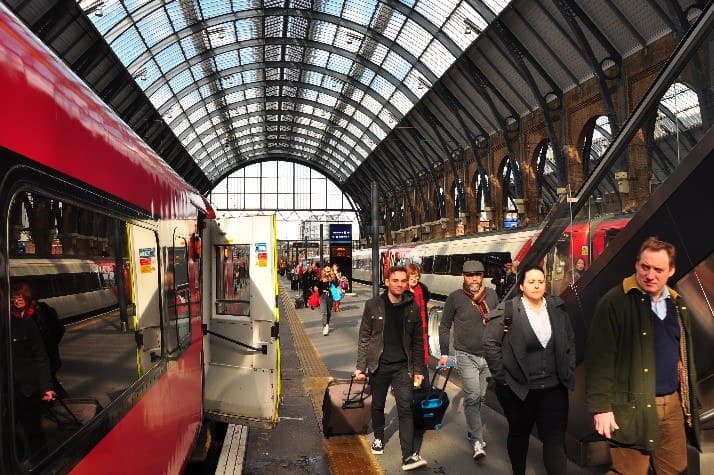 France aren't the only ones looking into the impact of flights either. Norway's Green Party recently announced they would like to implement personal flight quotas to reduce air travel demand.
This would involve emphasising train travel by replacing domestic flights with rail options and removing advertising for internal flights.
The system would also consider people's geographic location and their socio-economic status in order to ensure those who do need to travel by air (for example those living in rural Norway) would still have an option to do so.

So, in a world where air travel has been hit significantly by a pandemic and we are faced with an increasing population who are concerned about the amount of flying they do…
A time to do more?
Aviation has long been a tricky subject for governments around the world in respect of climate policy. Progress to reduce the carbon footprint of the industry has thus far been slow with growth in demand far outstripping efforts to reduce emissions. These efforts have largely focussed on materials construction of aircraft and increased fuel efficiency as well as airport decarbonisation; however, limited progress has been made on the key issue of sustainable aviation fuels (SAV).
SAV is complex. There is a lot of focus on the use of biofuels; however, the gain in emissions reduction would likely be offset in other areas such as the destruction of habitats, which is a difficult ethical issue. Electric aircraft (E-Volts) are being explored for some short haul, domestic journeys. These short haul flights that are within 500km account for roughly 25% of European flights, but this only amounts to around 4% of aviation emissions. Therefore, it is the long haul flights that have the greatest impact on emissions. For these, hydrogen appears to be a realistic solution, and the aviation industry has aspirational goals to focus on hydrogen aircraft to be introduced by 2035,however it may be some time until hydrogen can become the mainstream fuel source for aircraft.

Latest forecasts by the International Air Transport Association (IATA) project that global air travel demand will not reach pre-pandemic levels for some time. The organisation expects global passenger numbers to recover to 52% of pre-Covid-19 levels in 2021, 88% in 2022 and 105% in 2023. However, some see this trajectory as being too optimistic.
Much of the immediate growth is expected to be fuelled by travel in domestic markets, particularly China, as well as pent-up demand for short-haul, leisure travel in regions that are managing the virus effectively. The trajectory for longer-term growth is predicated on a successful global rollout of the vaccine programme, and in the shorter term, the ability of states to test, trace and isolate positive Covid-19 cases. However, sluggish vaccination programmes as well as the potential emergence of new variants of Covid-19 with greater vaccine resistance threaten to prolong this recovery.
While the effects of the pandemic on aviation have been devastating in terms of jobs and livelihoods, it has created an opportunity for governments to do more on the issue of aviation and climate change with a greater focus on managing demand and building back better with greener and cleaner jobs with a much stronger focus on sustainable fuels R&D.
The coming decade would appear to be one where the aviation industry will experience genuine pressure to act.
It is already clear that the case for airport expansion is becoming more challenging in more parts of the world in light of climate impact. This will become more so in future and will constrain the industry's long-term growth prospects.
Airports are also following the discussion and setting their own targets and action plans in line with the global aspirational goals. Therefore, the prize for decarbonising aviation is potentially huge and pivotal to the industry's continued success and in retaining its positive public perception.