Tuesday 16th March 2021
Ah, another lockdown birthday. Like many this year, ITP is celebrating in lockdown and while "23" is never usually deemed as a milestone birthday, we felt that so much has happened this past year, it would be a great time to reflect not just on ITP's past couple of decades in the transport industry but also the wider world of transport. So, join us for a trip down memory lane…
1998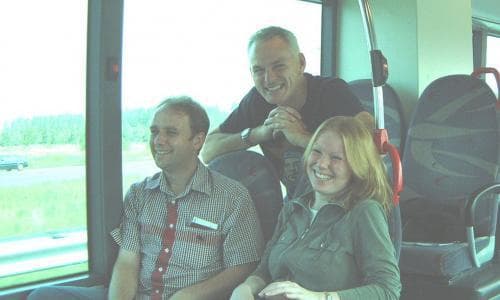 It's 1998, ITP has formed (hooray!) Colin Brader and Jon Parker have almost certainly contributed to Titanic becoming the first film to gross $1 billion. Happy to report transport is a lot safer nowadays…

In the transport world, the first ever folding electric bicycle is made available in Japan. The "Honda Raccoon Compo" featured a compact aluminium frame and a detachable battery pack.
2003
Fast-forward to 2003, ITP turns five years old. Celebrations were held with a study tour to Amsterdam and Stockholm where the team visited the Zuidtangent busway and met with Stockholm City Council to discuss car sharing and car clubs.
Away from ITP, British Airways operated its final passenger Concorde flight from JFK in New York to London's Heathrow and England won the Rugby World Cup.
2004
Do you remember life before social media? Wasn't it quaint? In 2004, Mark Zuckerberg created Facebook and things haven't quite been the same since. Meanwhile, some time away from adding friends and liking statuses, ITP produced a piece of independent research highlighting the potential impacts of car sharing and car club schemes in closed communities which was published by the Department for Transport.
In 2004, the world was also introduced to the first commercial high-speed Maglev train which began operating between Shanghai and its airport.
2008
In 2008, ITP firmly put its mark in the heart of the West Midlands, opening up its Birmingham office. In the same year, people in Sweden started streaming music from Spotify and the Tesla Roadster, the first mass-produced lithium-ion battery electric car, was launched. That Elon Musk has done pretty well for himself since, I think?
2010
Ah 2010, the year an Icelandic volcano that nobody could pronounce erupted and people had to cancel their flights to the Canaries. No, but seriously, it was utter chaos for air travel.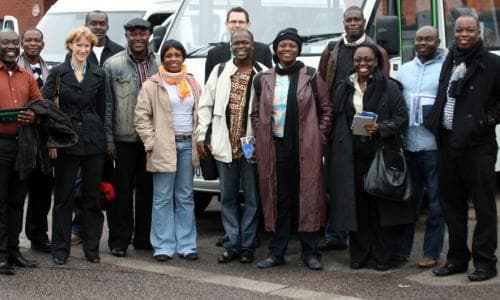 Meanwhile, ITP was working on a very exciting project delivering an intense two-week training course on behalf of the Ghanaian government for a group of transport planners who staff the country's Urban Transport Units.
In the world of transport, the first modern commercial Personal Rapid Transit system started operating at Heathrow Airport.
2018
In 2018, ITP celebrated their 20th birthday and also won "Small Business of the Year" at the East Midlands Chamber of Commerce's annual business awards. The judges commended ITP's commitment to delivering sustainable transport projects for public and private sector clients in both the UK and overseas.
Elsewhere, Qantas launched a direct non-stop service between Perth, Australia and London's Heathrow airport, making it the first commercial non-stop service between the UK and Australia. In the same year, Greta Thunberg in an attempt to highlight the climate change crisis, stopped attending school.
2020
I think we all know what happened in world news in 2020… but what you may have missed is that ITP joined forces with Royal HaskoningDHV, an independently owned Dutch engineering company, to further our transport planning offer in the UK and around the world.
2021
And so, we make it to 2021, as a result of our merger with Royal HaskoningDHV we now have a team with the strengths and capabilities needed to address 21st-century mobility challenges by helping to shape the sustainable transport networks of tomorrow.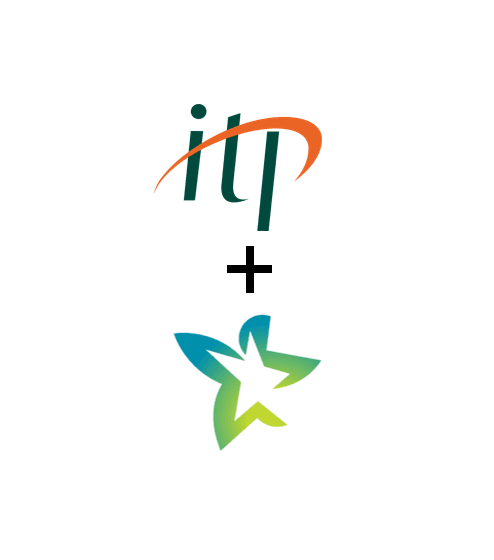 So much has changed in transport over the past 23 years from electric bikes to autonomous vehicles, but ITP has remained constant in its commitment to sustainability, collaboration and innovation.
If you would like to discuss our capabilities and how we can help you deliver your transport projects please contact us.