Thursday 1st July 2021
To complete our de-carbonisation month, we thought we'd talk about decarbonisation's sibling – improving air quality. The two are closely related and often work hand-in hand, although there are some measures that address one issue but not the other.
The current situation
Poor air quality is the greatest environmental threat to public health, with between 28,000 and 36,000 premature deaths linked to long-term exposure. It also costs money. In 2017 alone, poor air quality cost the NHS approximately £157 million in England. Clearly, change is needed to enhance our quality of life, and many places around the world are looking at what transport measures can be taken to improve air quality, particularly in urban areas.

The UK Government has, somewhat belatedly perhaps, recognised the seriousness of air quality problems in our cities – particularly those related to roadside nitrogen dioxide (NO2). In 2017, it published the UK Plan for Tackling Roadside Nitrogen Dioxide Concentrations ('The NO2 Plan'). A supplement to the plan for tackling roadside nitrogen dioxide concentrations was added in October 2018, and an overall Clean Air Strategy was adopted in 2019. This strategy sets out how all sources of air pollution will be tackled in order to protect nature, boost the economy, and make our air healthier to breathe.
In ITP's work (for example, in Leicester and Maidstone in the UK), we have reviewed and assessed dozens of measures that could contribute to better air quality. Among the most effective measures are different forms of traffic restraint applied to the most polluting vehicles. In European cities, Low Emission Zones have been widely adopted, while in England Government has identified charging Clean Air Zones (CAZs) as a preferred way forward where air quality problems are at their most acute.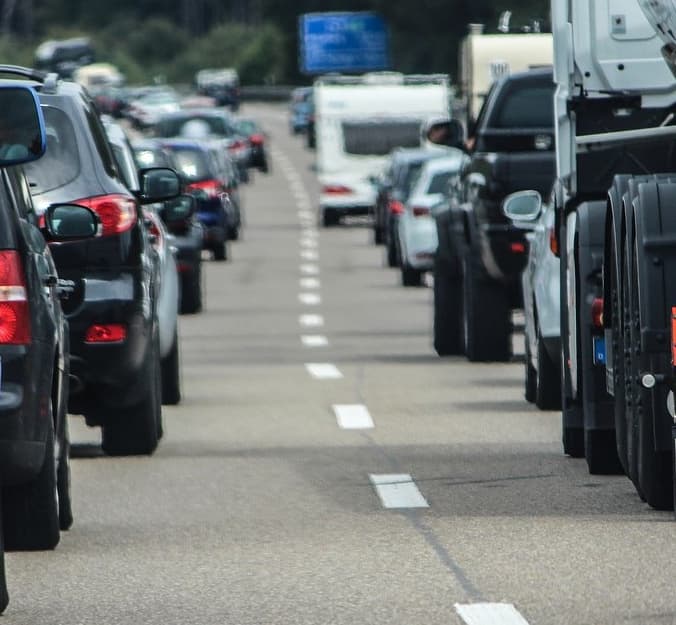 Low Emission Zones (LEZs) work by banning vehicles that don't meet certain emission standards (Euro standards) from using roads within defined zones at prescribed times. Charging Clean Air Zones (CAZs) work by charging vehicles that don't meet defined emission standards when they are within defined zones. The UK Government has provided a Clean Air Zone Framework which provides the list of principles for setting up CAZs in England and defines four classes of charging CAZ.

There are over 250 LEZs across Europe to address traffic and pollution hotspots. Evidence from Germany and Portugal has shown that Low Emission Zones have significantly reduced levels of pollutants such as NO2 and particulate matter, and have contributed to generating health benefits from lower levels of pollution. They've proved less attractive in the UK, however, as local authorities don't currently have the powers to enforce the types of moving vehicle offence that contravention of an LEZ would entail and would have to rely on police enforcement.
Charging CAZs work by applying a financial 'push' to discourage users of the most polluting vehicles from driving in the most polluted areas and to provide an incentive for those users to change towards lower emission, greener vehicles. Given that vehicles contribute to 80% of roadside NO2 pollution across the UK, it's perhaps no wonder that some research has suggested that CAZs could deliver an 18% reduction in NO2 across eight key cities and could prevent at least 1% of deaths in those cities' populations while injecting millions into local economies by saving lives and reducing illness and days off work.
Implementation of CAZs in the UK has had something of a 'difficult birth'. Some people in the industry claim there is insufficient support from the government with publicity and public engagement around the reasons for urgent action, which has led to resistance from businesses and residents despite the economic and environmental benefits. Delays to rolling out CAZs have also partly been attributed to government being slow to provide the digital systems needed for local authorities to implement charging, such as for managing data and payment. Of course, the Covid-19 pandemic will have undoubtedly interrupted plans and scuppered timescales too. It'll be an interesting next couple of years to see whether more CAZs gain traction or whether other measures will be brought forward in their place!
Case study: Brum Breathes
The first CAZ to become operational in the UK was in Bath, but recently in June 2021, Birmingham launched its own CAZ with the strapline "Brum Breathes". In Birmingham, each year pollution contributes to the premature deaths of almost 1,000 people. On 1st June 2021, Birmingham introduced a 'Class D' CAZ, charging owners of the most high-polluting vehicles of all types when driving in certain parts of the city centre.
The Brum Breathes campaign includes an impactful and informative video which we would encourage you to watch below. It is this type of information campaign that will ultimately educate and encourage people to get on board with CAZs in their areas.
Looking ahead, local and national government should aim to introduce a campaign to alter perceptions of CAZs, alongside a supporting behavioural change programme, to encourage people to embrace change. Long-term, stable funding for infrastructure will be required to support local authorities' ambitions to reduce pollution and tackle climate change.
What more is needed?
Clean Air Zones need to form part of a wider package of measures. Without safe, reliable, and realistic alternatives to private cars, it's extremely difficult to create modal shift and encourage use of low emission, or zero emission, options.
Continued expansion of charging infrastructure is essential to facilitate use of electric vehicles and to alleviate concerns around the practicalities of charging during a journey. More investment in walking, cycling, and public transport is key, as well as additional initiatives such as workplace parking levies, car-free streets, and behavioural change schemes. Such schemes could be concentrated in areas with higher levels of pollution and exposure to particulate matters to help create the biggest impact. But of course, investment such as this is reliant on availability of long-term funding from national government.
Communities and businesses need to be engaged and consulted at various steps along the way to gain buy-in and support for cleans air zones. Giving them an opportunity to be involved in the process could inspire them to make the necessary changes required to improve air quality and will lead to clean air zones that accommodate local needs and demands whilst likely diffusing any tensions.

Our experience
ITP has been involved in several projects that aim to tackle air quality issues and reduce the impact of greenhouse gas emissions. Find out more here.