Friday 31st January 2020
Over the past two years, I have been working in Sierra Leone's capital city, Freetown, as part of a project commissioned by the World Bank to develop a high-quality public transport system that meets local travel demands and improves access to opportunity for all.
Freetown is a picturesque city located on the Atlantic coast of West Africa with many historic buildings. It currently has a population of 1.056 million people, but this is growing at over 2% each year. As the city's population scales, its residents are facing major mobility challenges. To enable the city to grow economically, and ensure a liveable environment for current and future residents, an enhanced high-quality public transportation system is required.
What's Freetown like now?
Currently public transport here is delivered through a mix of formal and informal transport modes. Formalised buses operated by a national operator, SLRTC, cater for less than 20% of public transport demand. So, as is the case in many West African cities, most collective journeys are achieved through informal public transport modes. In Freetown the informal public transport network consists of a small number of privately-operated large buses (second hand imported vehicles), poda poda (minibuses), shared taxis (saloon cars), Okada (bike taxis), and Keke (three-wheeler taxis).
The informal transport network has developed organically over time, filling in gaps that have emerged with the public service operator's gradual decline. As such, several key issues have arisen, including;
Traffic congestion at junctions from stopping informal transport vehicles.
Lack of reliability in service frequency and trip length.
Uncomfortable passenger experience with insufficient seating.
Dangerous vehicles and safety standards resulting in deaths and injuries.
Lack of defined public transport routes, timetables, and passenger information.
ITP has helped improve public transport networks in cities around the world. Vital to achieving a step change in public transport is a harmonised approach of improving infrastructure and vehicles that ply a set of optimised routes. Central to achieving this change is often the need to legislate for, and implement (or commit to enforcing!), reforms to current policies and practices. Addressing just one of these elements will not solve the fundamental issue, so it's vital they are delivered all together.
What work have we done so far?
In Freetown, ITP has been working in collaboration with the World Bank, Sierra Leone Ministry of Transport & Aviation, Freetown City Council, and other key urban transport stakeholders to develop a plan that will improve the delivery of public transport and, in turn, the safety and journey experience for residents of the city. To achieve this, a network of high-quality public transport 'corridors' have been identified, with key interventions proposed. These will aim to improve the accessibility, efficiency, and safety of public transport services to benefit the residents and businesses of Freetown.
To help establish a plan for the development of high-quality public transport in Freetown, we deployed our data-driven approach to public transport planning. Working with a local data collection company, Dalan, we have carried out a range of traffic counts, passenger boarding/alighting counts, and focus group discussions to inform a diagnosis of existing supply and demand conditions for transport. A local survey team was trained using mobile phone and geo-located survey tools, enabling us to collect meaningful data to inform our insights into existing usage and conditions of the city's transport network.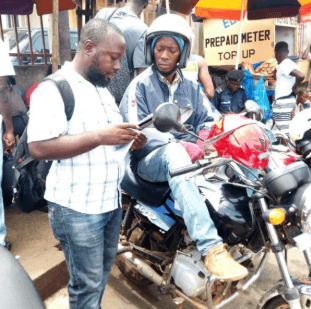 To identify the impact that improved transport corridors would have on the city of Freetown, we also undertook a journey time accessibility analysis. This involved building a transport accessibility model based around an encoded General Transit Feed Specification (GTFS) dataset of existing transport routes, services, and approximate schedules informed by the data we collected. Our analysis found that around 40% of Freetown's residents currently live within a 60-minute public transport trip of the Central Business District (Cotton Tree).
To highlight the impact that proposed improvements to identified priority public transport corridors could have, we edited the GTFS feed to reflect an approximation of the enhanced journey times (by public transport) that could be achieved. The results show that, post-investment, 60% of the population would now be within 60-minutes of the central business district by public transport. That reflects a 50% improvement in the number of people who could use cheaper, more environmentally friendly, and more road space-efficient forms of public transport to access the urban centre of Freetown when compared with the current situation.
Next steps
The work we've done so far has preceded the launch of a $50 million World Bank-funded public transport improvement project at a conference in November 2019, which was chaired by President Julius Maada Bio. The next phase of this project moves things to implementation. It will look at introducing a range of interventions - including training for transport operators on safe driving, improving the efficiency of bus fleets, implementing an integrated ticketing system and bus management system, as well as improving bus information, bus stop facilities, and bus priority measures on-street.
Find out more about ITP's experience in improving public transport networks around the world here, and read the full series of blogs from our International Month on our website.