Tuesday 17th March 2020
As a sustainable travel consultant, I have spent much of my career encouraging people to think outside the car and explore the travel options available to them. A new workplace travel planning project, requiring onsite support three days a week and located 10 miles away from my home, made me pause for thought… and I decided to explore the travel options available to me. I decided on the park and pedal option.

Transport professionals commonly refer to the Transtheoretical Behaviour Change Model that outlines five stages of change. Here's my journey through those five stages.

Source: Pro-Change Behaviour Systems, Inc, 2014

Precontemplation (Not ready)
I live 20 miles away from my workplace and have always driven to work, however, I would not consider myself under informed. I cycle (infrequently) in my free time, I own padded three-quarter length leggings, a high-vis jacket, numerous layers, and a few pairs of cycling mitts.
Contemplation (Getting ready)
I reviewed the Northampton Cycle Map to see how far the cycle paths extended outside the town. At the end of an off-road cycle path was Billing Aquadrome and I knew there was 'available parking' in the area (i.e. a large pub car park). It would then be a four-mile cycle to site. Three days a week. Twice a day.
Next thing to review was my morning routine. Most days I will get up, shower, wash my hair, get ready, and drive to work. Cycling to work would turn this routine on its head; I decided I would wash my hair the night before, and in the morning, put on my cycling clothes, drive to the car park, cycle in and have a shower at work.
With the benefit of a visitor parking space on my first day, I scoped out the situation with the showers and cycle parking and asked for a locker on the office floor.
I ensured that I registered my bike and my car with the Security Team so I could access the cycle parking facility as well as the site car parks (all card access only).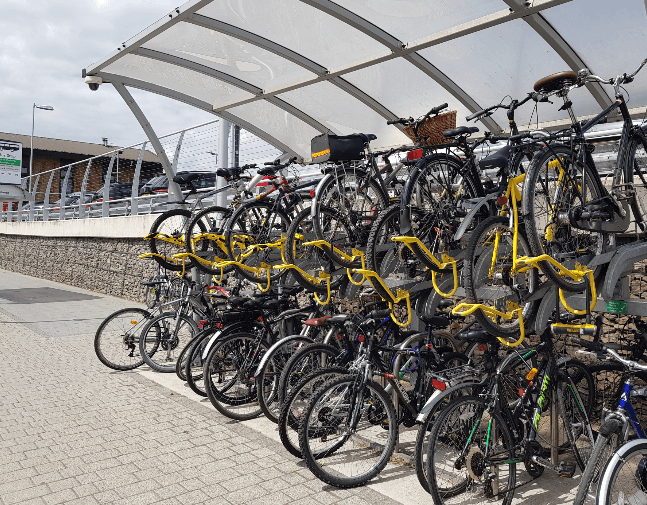 I brought a bag with some clothes, toiletries, and a towel because I knew that even four miles would make me sweat a bit, especially with a rucksack on my back (that old saying of 'horses sweat, men perspire, but ladies only glow' makes me a chestnut mare). I also told my new colleagues of my intention to cycle to work as I knew they would tease me if I didn't.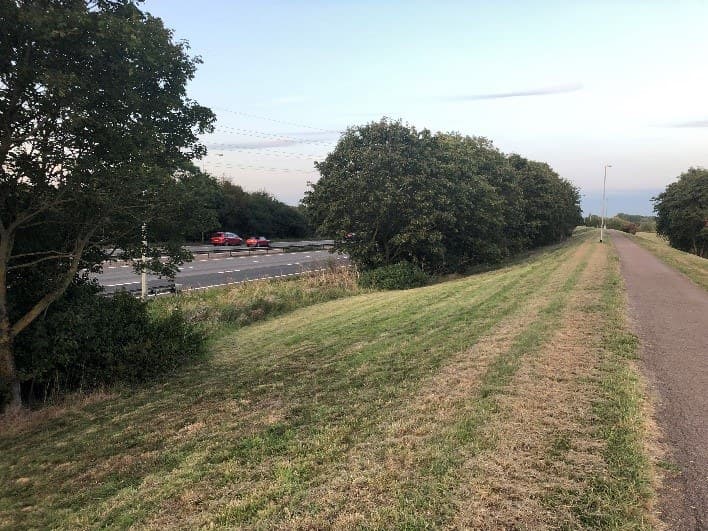 I decided on a practice run the night before 'the big day', which is something I advise people to do. I dragged my partner out for an evening bike ride to make sure I knew where I was going.
Everything was going well until I couldn't take my gaze off a horse and ended up going head over handlebars... Ouch. The rest of the journey was fine, and I felt comfortable with my route the following day.
Action
The following morning, I pulled my cycling gear on. This feels weird! I also examined the purple bruises on my legs from the night before; at least I had a good story to tell my client and evidence to demonstrate my dedication to the sustainable transport cause. I packed up my things, got in the car and drove to Billing Aquadrome. I parked up, got my bike out of the car, helmet on, mitts on, rucksack on, lock car, where's my phone? Rucksack off, find phone, attach to handlebars, put car keys away, rucksack back on, select Strava, get on bike, start pedalling, press start on Strava. Go!
My first cycle to work went off without a hitch, although I won't deny I was a little nervous. I triumphantly walked into the office whilst also feeling rather relieved and grabbed my bag and headed to the showers. It felt a bit weird getting ready in an unfamiliar changing room, but we adapt.
20 minutes later and I was at my desk ready to start work. I felt like I had already achieved something that day, I could feel the blood pumping through my legs (in a good way), and I could feel the endorphin rush. I felt good. I was also quite thirsty.
My client was indeed 'impressed' with my dedication and asked if I was looking forward to the ride back later that day. I replied honestly that I was. My ride back to the car was even more enjoyable than my ride into work, it gave me a chance to process the day and then forget about it and appreciate the pure freedom that riding my bike gives me. It may sound cheesy but it's very true.
Maintenance
The thing I love about cycling is that it never fails to put a smile on my face. I got a buzz from seeing my progress on the Strava segments as I am motivated by numbers. I enjoyed taking in my green surroundings along the route through the meadow and along the River Nene, engaging in a spot of 'meadow dipping' (not quite forest bathing). I saw birds, rabbits, squirrels, sheep, a heron, ducks, swans, and cygnets on the river.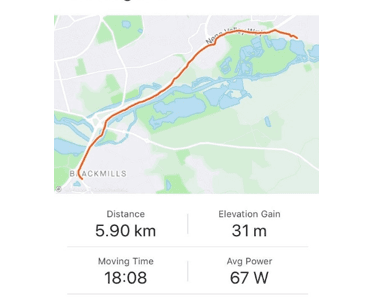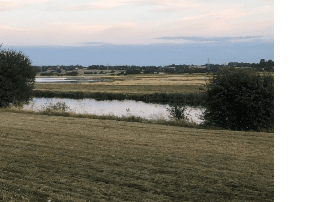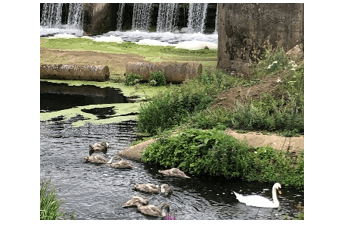 I hosted the Cycle to Work Day at the client's site and couldn't help but notice that of the 30 cyclists, only one was female, and she was wearing everyday clothes, although her cycle ride was half the distance of mine.

My cycling into work prompted some interesting conversations at work; the best one was a colleague who unexpectedly split from their partner and moved near to Billing Aquadrome… They wanted to lose a bit of weight and they asked me about the cycle route to work. They have now bought a bike and are looking at cycling in; it just shows the importance of cycling champions offering to share their knowledge.
…Relapse
Unfortunately, I relapsed back into driving my car to work. After 6 weeks or so I found myself working between Northampton, Milton Keynes, and Slough with a busy workload. Had I actually worked full time at my client's office, my efforts would have been focused on one destination instead of the three different workplaces I had at the time, far simpler.
However, my park and pedal experience has not been wasted. Milton Keynes Council promote park and pedal from the MK Coachway, offering free car parking. I'm already thinking about whether I can cycle in from there when the clocks change, and it gets a bit warmer and save myself £3 a day parking fees in the process (that's £15 a week and £60 a month).
Click here to read more blogs on a range of topics related to ITP's Smarter Travel Month.