Wednesday 11th September 2019
History
The popularity of bicycles took off in the late 1800s with the introduction of the "safety bicycle", which is, in effect, the modern bicycle. This was arguably the first form of relatively affordable and rapid private transport, predating the first mass-production car, by over two decades. Documented historic use of bicycles is hard to come by; whilst bicycles certainly became a popular mode of transport for commuting trips, particularly by factory workers after World War 2, information on historic interaction with public transport is limited.

It appears in fact that investment in bicycle facilities at train stations, at least on a widespread scale, was not common until more recent times.
For example, it wasn't until the early 1990s, the Dutch government started to invest in bike-and-ride, enabling the use of bicycles at rail destinations, as well as bicycle facilities at bus interchanges (Martens, 2007).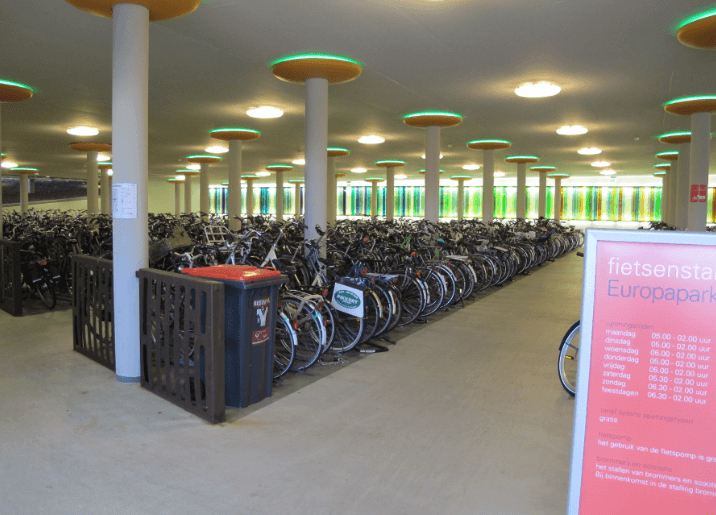 Enabling bicycle trips to and from train stations and other transport interchanges is essential in making public transport competitive against cars for medium and long-distance journeys. For example, one comparison of 25 home-to-work journeys found that if the bicycle was used for travelling to and from train or bus stations, travel times by public transport (+bike) were just 25% longer than using a car for the same journey (Martens, 2007).
Overcoming integration issues
One problem with integrating bicycles with public transport is what to do when you get to your destination. Most commuter train services in the UK and other countries are too crowded to accommodate bicycles; whilst some people get around this by using a folding bicycle, these are too expensive or impractical for many people.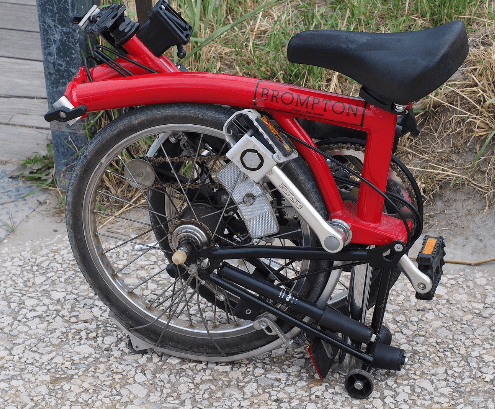 This problem is demonstrated by some statistics from Dutch research published in 1993 (van Goerverden and Egeter): at that time, people used bicycles for 29.3% of trips to the railway station, but just 6.7% of trips from the railway station at their destination.
In order to provide a practical solution to make use of the speed benefits of the bicycle at both ends of the trip, the Dutch launched the OV Fiets scheme in 2003 (this was 4 years before Paris launched their docked bike share scheme in 2007).
The OV Fiets scheme started out with less than 1,000 bikes at 70 locations (most of which are at train stations), but by 2011 they were at 230 locations, and had 1 million rides per year. In 2016, 2.4 million rides were made, and thanks to abolishing the €10 annual subscription (while increasing the cost slightly to €3.85 per day), the usage shot up to 4.2 million rides in 2018; the current problem is often a shortage of OV Fiets bicycles at train stations due to this popularity. Therefore, it's clear that this scheme has been hugely successful in enabling excellent integration of bicycles with public transport, especially trains.
Furthermore, in order to ensure that people can continue get to the train station with their own bikes, the Dutch provide huge amounts of bicycle parking at train stations, as well as significant amounts at bus stations and other transport interchanges. For example, this year, the largest bicycle parking facility in the world was completed in Utrecht, featuring 12,500 spaces on multiple levels, and is so big that it has cycle paths running through it.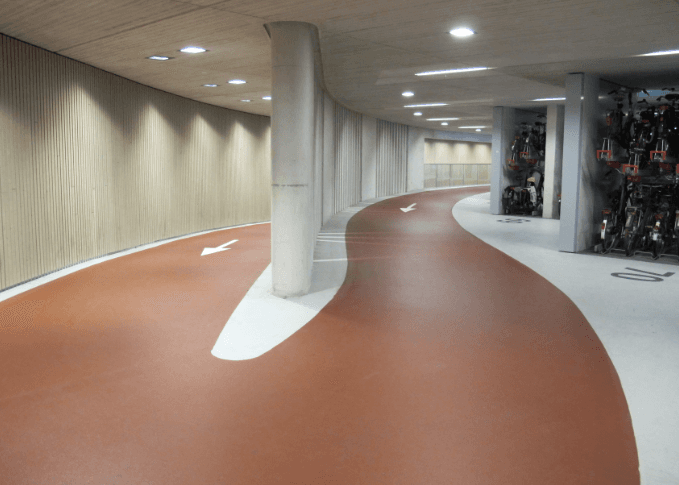 While the Dutch model could be considered best-practice, other solutions have also been successfully implemented in other countries. For example, in Copenhagen, the commuter S-trains, whose network stretches over 20 miles from the city centre, were re-designed in 2010, allowing them to carry up to 60 bicycles per train. Furthermore, the fee to travel with a bicycle was also dropped. As a result, 630,000 bicycles were carried on the S-train network in 2010, vs 188,000 in 2009. However, it's worth noting that there were around 90 million passenger journeys that year as well, so those carrying a bike made up less than 1% of all passengers; a big step, but still a long way to go to make a large impact.
Sometimes, certain geographical or topological challenges can produce the need for tailored solutions. An excellent example is that of the Tilikum Crossing and the Portland Aerial Tram in Portland, Oregon. The Tilikum Crossing is a suspension bridge solely for public transport (trams, buses, and a streetcar), with adjacent lanes for bicycles and pedestrians, whilst the Portland Aerial Tram is a large cable car that can carry 79 people in each cabin, transporting 10,000 students, medical staff and sightseers each day on the 3.5-minute journey up a steep hill to the Oregon Health & Science University and its two associated hospitals. Where do bicycles come into the picture? The Tilikum Crossing allows many more people to cycle over the Willamette river, who can then connect with an aerial form of public transport, thereby saving them from having to cycle up a steep hill. When the Tilikum Crossing opened, the cable car operator had to purchase more land for bicycle parking in order to meet demand; around 500 bicycles now park at the base of the Aerial Tram each day, making it the largest bicycle-valet parking in North America.
Looking to the future
The world never stands still, and this is especially true in transport. What does the future hold for the integration of bicycles with public transport? While it's impossible to predict with certainty, the success of schemes such as OV Fiets looks set to continue, and it would be good to see such schemes being rolled out in other countries. However, there's another new and interesting trend to keep an eye on: that of electric micromobility devices, such as e-scooters.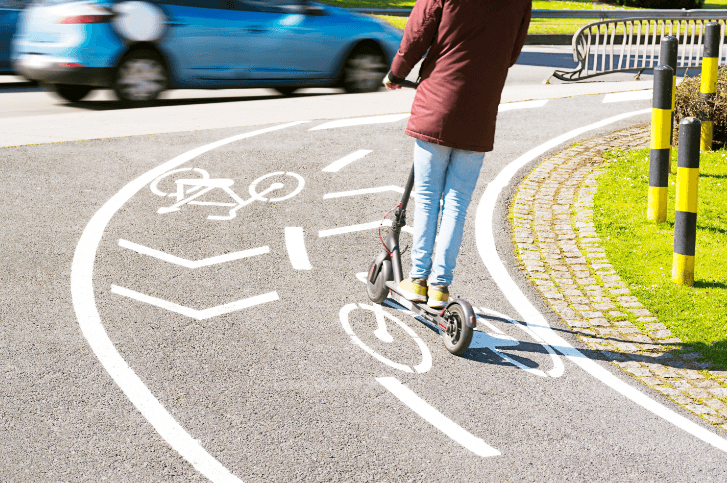 These e-scooters are typically dockless, and appear to be increasingly used for short connecting journeys, such as trips to and from underground train stations in large cities. However, the regulatory environment around these devices is in a rapid state of flux, and it will be worth following how restrictions on their ability to be parked docklessly on footways in some cities affects their usage pattern, among other things.

How can we help?
ITP has a wealth of knowledge on active and public transport, with a focus on inclusivity and sustainability. Why not get in touch to see how we can help you overcome your transport challenges?