Friday 31st August 2018
Even more than ever, driverless public transport is becoming a matter of when rather than if, as the enabling technologies advance at a rapid pace.
The Guardian recently reported that a full-sized self-driving bus is ready for testing. Stagecoach, one of Britain's biggest transport operators, has announced that the trial will occur later this year, although the single-decker vehicle will run autonomously in its depot only. It will self-drive to its refuelling and wash points, and park on its own. Stagecoach's announcement comes on the heels of the driverless transport trial held last year at Greenwich, where a computer-controlled shuttle bus navigated a riverside path near the O2 Arena. And, unlike the driverless bus to be tested by Stagecoach, the vehicle developed by Oxbotica ferried passengers handpicked from 5,000 applicants and tasked to assess the experience.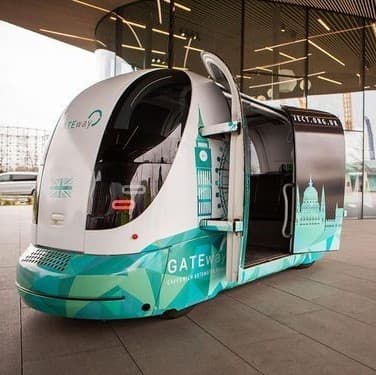 Perhaps even more groundbreaking was the 20-kilometre (12 miles) Mercedes-Benz's autonomous bus test drive. The Mercedes-Benz CityPilot navigated a public route in Holland between Amsterdam's Schiphol airport and the nearby town of Haarlem with relative ease. It was able to negotiate tight turns, intersections, and pedestrian areas without any problems. The self-driving bus, which can reach a top speed of 70 kilometres per hour (43 mph), is equipped with GPS, radars, and 12 cameras that allow it to "see" traffic signs, pedestrians, and other vehicles on the road. Unlike other driverless buses, the futuristic CityPilot is interconnected with the city network, giving it the capability to "communicate" with infrastructure such as the traffic lights. Check out the video below, which explains the concept...
These developments pose the question: How close are we to autonomous public transport in the UK?
Very close it seems. A lot of investment is clearly being poured in to advancing driverless technology. And the technology is, indeed, advancing, with the Greenwich trial already at level four on the roadmap to full autonomy. At this level, the vehicle can do much of the driving already, although all under human supervision. Motor industry insiders believe that this level is expected to be commonplace in the next eight years, the same way level two is widespread nowadays. At level two, some of the driver's tasks are automated and assisted. At level three, the vehicle can self-drive on certain roads, but with the driver ready to take control when necessary.
As autonomous buses are starting to make serious headway in the UK, the public can look across the Atlantic to see how the U.S is implementing self-driving transport. The first driverless shuttle for public use was launched in Las Vegas last November for a year-long run, with rides available daily for eight passengers at a time. The self-driving shuttle uses advanced cameras, GPS, radar, and laser rangefinders to make driving decisions that are being touted to be safer than human decisions. The U.S., of course, has taken big steps towards driverless vehicles, notably in the trucking industry through the passing of the ELD Mandate.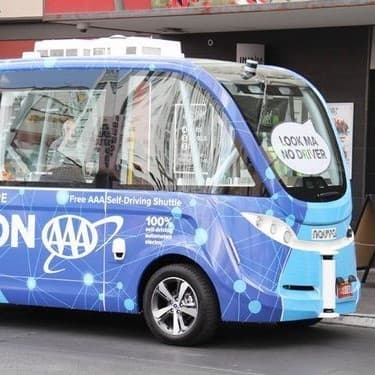 The mandate requires all trucks to be equipped with high-tech devices capable of assisting truck drivers in a variety of ways. Verizon Connect explains that these ELD devices help improve drivers' driving habits, monitor their Hours of Service (HoS), optimise routes, improve fuel efficiency, and aid in real-time vehicle monitoring. With truck drivers now carrying digital assistants in their vehicles, the ELD Mandate is being seen by industry experts as the bridge to a fully automated industry.
Here in the UK autonomous public transport is well on its way, but it will be a massive undertaking. As stated in a previous ITP blog, some 4 billion bus journeys were made in the UK last year, which highlights the prominent role played by the public sector in this country. Given this fact, full autonomy will likely happen in phases, and it just might start as early as next year.
Special thanks to Kevin Mansager for contributing this guest blog.
Photo credits: Pinterest